Commencement Ceremony for AY 2022 was held
Commencement Ceremony for AY 2022 was held
Commencement Ceremony for Degree Programs in Pure and Applied Sciences/
Graduate school of Pure and Applied Sciences AY 2022 was held on March 24, 2023, at 1H101.
Professor Hatsukugai, Dean of the Degree Program and each Chair of Programs celebrated Forty-nine students who obtained their Doctoral Degrees.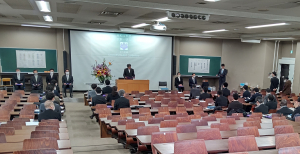 We wish all of the doctoral degree recipients continued success in their endeavors.